Create a strong foundation in music cataloging with RDA!
Cataloging Music Resources in RDA
with Sonia Archer-Capuzzo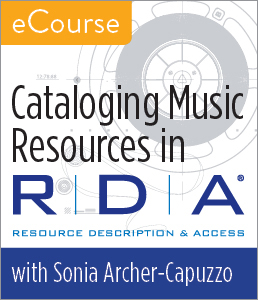 4-week eCourse
Beginning Monday, June 5, 2017
Are you struggling with cataloging music in your library? The latest release of RDA: Resource Description and Access, on February 7, 2015, now includes the addition of Music Library Association's Best Practices for Music Cataloging (MLA BP). ALA Publishing presents this popular returning eCourse, Cataloging Music Resources in RDA facilitated by Sonia Archer-Capuzzo, which explores the unique challenges of cataloging music resources and focuses on how RDA Toolkit meets these challenges. More and more libraries are making the switch to RDA cataloging, and training like this becomes more important to the process.
This 4-week eCourse includes scores, audio recordings, and a brief overview of video recordings. To be successful in this eCourse, you will be expected to understand cataloging practices and the basic tenets of RDA, FRBR, and MARC prior to starting the course. Throughout the weeks, you'll delve into the details of description, preferred titles, authorized access points, and relationships. Each week will consist of a combination of readings, pre-recorded lectures, interactive hands-on activities, and discussions between Archer-Capuzzo and your classmates. This course will provide you with a network with whom to interact and learn from—a support system for one another to help explain concepts in different ways, point out helpful resources, and provide encouragement.
Learning outcomes
After participating in this eCourse, you will:
- Recognize the primary traits of RDA records for music resources. (Bloom's Taxonomy: Knowledge, Comprehension)
- Apply RDA rules to music resources to create original records for scores, sound recordings, and video recordings.(Bloom's Taxonomy: Application, Synthesis)
- Identify the differences between Works, Expressions, Manifestations, and Items and how those differences affect cataloging of music materials. (Bloom's Taxonomy: Analysis)
- Interpret the instructions in RDA Toolkit in order to create high-quality catalog records for music resources. (Bloom's Taxonomy: Evaluation)
About the Instructor
Dr. Sonia Archer-Capuzzo is a cataloger, lecturer, and librarian. She holds an MLIS and a DMA from the University of North Carolina at Greensboro, where she currently teaches as a lecturer for the Library and Information Studies Department. As a cataloger, Dr. Archer-Capuzzo has worked in AACR2 and RDA and has cataloged numerous formats, including scores, audio recordings, videos, serials, and objects. She provides RDA training throughout the southeast United States, including workshops for the Southeast Music Library Association, the North Carolina State Library, and the Northeast Florida Library Information Network.
For more information and registration, please click HERE.
The course above is a part of eCourse program from ALA - American Library Association