Adult Programming: Planning for Success eCourse
Adult Programming: Planning for Success
facilitated by Amy Alessio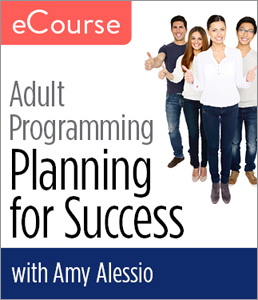 3-week eCourse
Beginning April 17, 2017
Learn how to build programs that draw adult users into your library from one of the most well-known programming experts—Amy Alessio! Adults are a very important—but often overlooked—category of patrons. They generally make up a large proportion of library patrons.
In this 3-week eCourse, Alessio will help you plan a calendar year of events for adults in several different age groups. You'll learn about the best programming resources for everything from planning to marketing. Throughout the course, you will design one detailed program plus provide ideas for future programs and contribute to discussion with other participants. You'll walk away from this course with the knowledge and inspiration you need to create successful programs for your adult patrons.
Learning Outcomes
By the end of this eCourse, you will have:
- Strategies for navigating issues in programming, including space, budget, and staff constraints

- Ideas for adult programs that could fill a full calendar year

- One detailed program completely designed and ready to implement

- Tips for marketing your events through social media
Who Should Attend
Any library staff involved in adult programming, especially those in their first years of experience and those at public libraries or community college libraries, will find this eCourse highly relevant.
Instructor
Amy Alessio is an award winning teen librarian with a black belt in karate. Her latest co-authored reference titles, A Year of Programs for Millennials and A Year of Club Programs for Teens, were published by ALA Editions in 2015. She has enjoyed presenting over three hundred webinars and live workshops on library programs and services. She served on the YALSA Board of Directors as well as on selection award committees. She reviews romance novels for Booklist. Learn more at www.amyalessio.com.
For more information and registration, please click here.
The course above is a part of eCourse program from ALA - American Library Association